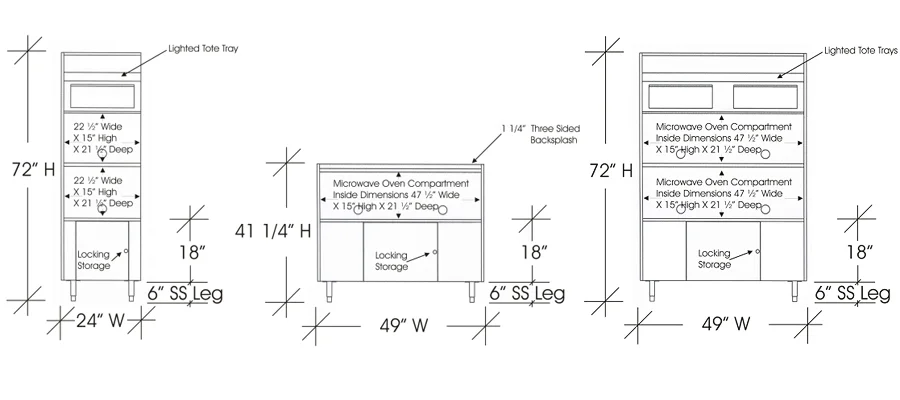 # 24 D Microwave Oven Cabinet 24" X 24" X 72" High $795.00
# 49 D Microwave Oven Cabinet 49" X 24" X 42" High $669.00
# 49 DD72 Microwave Oven Cabinet 49" X 24" X 72" High $995.00
Budget Microwave Oven Cabinets
Constructed with high pressure plastic laminate surfaces on cabinetry grade 3/4" particle board. Melamine sides, lower shelf and tote shelf, 3/4" melamine back and 1" melamine bottom and mid-shelf, all exposed wood edges banded with .018 mm PVC edge banding.

Upper vanity style light with 8' extension cord and four compartment drop in style tote tray included with 72" cabinets.
Microwave oven cabinets Include: 2 1/2" grommets for use with microwave electrical cords and plugs and 6" stainless steel adjustable legs ( set of 4 ), Euro style concealed hinge on storage door.

Storage compartment doors equipped with Cam-lock and universal key. Interior Color: Gray and White Melamine. Exterior Color: Black sides and front panels. White melamine backs are standard.